Choosing the Right Cabinets for your Kitchen
Choose an alternative based on the inconvenience or error you are facing in using the existing kitchen cabinets. Here are a few reasons why you would choose to replace your kitchen cabinets and their respective alternatives.
Choosing the right kitchen cabinets for your kitchen, largely defines and impacts the functionality and space optimization of your kitchen. The choices are endless, so list your needs beforehand so that you can pick a kitchen cabinet style that works best for you. Some of the questions you need to answer are -
Do you have any heavy utensils and appliances such as pressure cookers and steamers?

Do you store pulses and grain in bulk?

Do you use spices and oils every day?
A quick calculation of what you need to store in the kitchen cabinets will help you understand the size, style and number of shelves you need.
Kitchen cabinets can be planned to go, both under the countertop as well as the overhead. Cabinets that go under the countertop are referred as floor cabinets which are best suited for heavy vessels, pressure cookers, pans, 'chakla', etc. Overhead or wall cabinets are most suited for storage of rice, pulses and other food items, where pests can't get to them easily. Keep in mind the reasonable dimensions, so that you don't compromise on countertop space or install the cabinet at a wrong height, which can be dangerous.
Conventional kitchen cabinets had wooden doors and knobs/ handles that supported heavy-duty cookware and cooking procedures. But now, cabinets are preferred in different styles and configuration. They are chosen to accommodate more stock in an elegant and functional manner.
Options to replace Kitchen Cabinets
1. Upper cabinet units with Kitchen Drawers
Upper kitchen cabinets can make your kitchen look heavy and crowded. The most preferred option is such a case is to add drawers to the lower units. Drawers provide better access to utensils and appliances while working, rather than stacking them above. Upper cabinets are hard to reach, cast a shadow over the counter, making a small kitchen look gloomy and dark.
If you are choosing this option, ensure that you have carved and sturdy frames to hold the kitchen drawers. They not only hold the drawers, but also the weight of articles that get inside it. If you already have frameless cabinets in the lower part of your kitchen, installing drawers is the best option. It is a spacious option to provide room for more storage just like in the upper kitchen cabinets. An ideal size for good storage would be 2 feet long drawers and hence plan for at least an 18-inch cleat.
If, you have framed cabinets, evaluate their length. Since, '2 inches' would be lost in holding the box of the new drawers. For long lasting kitchen drawers, you can also consider frames with concrete or gypsum that can withstand the wear and tear caused by the trays. Drawers can also be furnished with interior organizers to avoid clumsy placement.

What do you need? - You need external resources like a carpenter to create wooden frames. Take the measurements before choosing the design. You can also consider installation and assembly from branded vendors who offer pre-made cabinet designs. These are referred to as insert sets.
2. Baskets to avoid chaos
If your kitchen is suffering from disorganization, basket units come in as a handy solution. Kitchen Baskets could be in-built or independent separable units. They are installed into existing kitchen cabinets and drawers.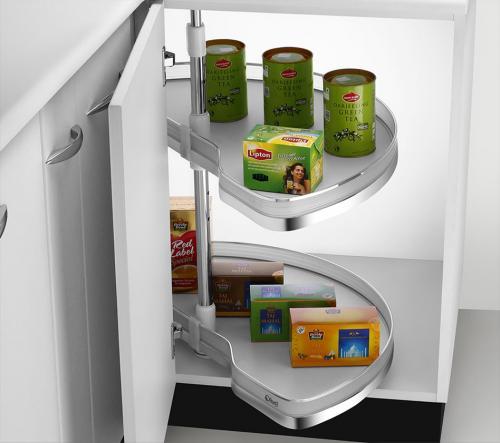 If you already have cleats installed on the wall of cabinets, they could be used to pull and push baskets. You can use baskets with edges as drawers into the existing kitchen setup.
Apart from using baskets as drawers, you can also construct a vertical line of baskets within a metal frame to stock items. Baskets offer specific solutions to store specific kitchen ware. While replacing your storage options with baskets consider other options like - metal-wire baskets, jute-roped baskets, plastic baskets, Thali (Indian plates) baskets, PVC tray baskets, bottle baskets, wooden baskets.
What do you need? - Baskets can be bought either at a home decor or furniture store. Carry your measurements while shopping for them. For in-built basket options
check here
.
3. Lot of Crockery stacked in Open Shelves
Open shelves do not stop you from stocking crockery and dinner sets. Open shelves allow you to add utensils with customized measurements. The haphazard sizing is lost in the open set-up and hence retains aesthetics.
If you intend to stock glassware in open shelves, consider securing them with a stainless stell or plywood rod of 5 mm diameter. This also helps you access the articles without breakage. Open shelves are mostly placed in the top section. This also allows you to stock spices, sugar and salt for immediate cooking.
What do you need? - Use the services of an interior decorator to decide which of the cabinets should be converted into open shelves. You may want skip this for cabinets built closer to the windows. A carpenter should be able unscrew and dismantle existing cabinets. After this they should smoothen the edges and surface. Add laminate or paint before use.
4. Wall storage and hooks
There are a few articles that remain inaccessible, when stored in kitchen cabinets. That is when you would consider using wall storage options and hooks. This is a great option to hang wipe cloth, ladles, oven glove, measurement cups and so on.
Wall storage rods come in stainless steel or wired plastic with outward hooks attached to them. You may also find a simpler and customizable option of using a metal rod, which otherwise is used as a towel holder. This metal or plastic hooks can be added and removed as necessary.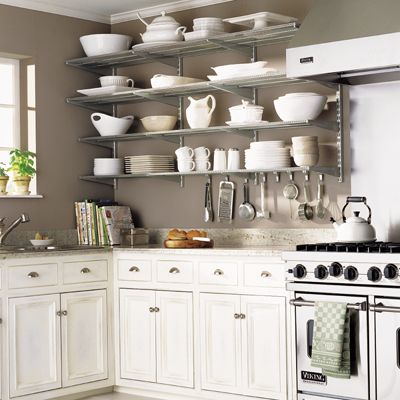 Other independent hooks come without a rod. They can be placed onto a tiled or wooden wall surface using a 3M-double-sided tape.
What do you need? - Materials for this option are available at hardware stores, home and kitchen stores and sometimes at stationery shops too. This can be installed by yourself and is a simple DIY hack. You may also consider vacuum hooks instead of using a sticky one. To avoid high customization, you can also opt-in for ready made hook rails.
5. Wooden cabinet doors do not provide aeration
If you are using cabinets to store onions, dry snacks, potatoes and so on, you would look for aeration. For aeration, you can replace kitchen cabinet doors with curtains. When you remove the doors, small metal hooks or loops that hold the line of curtain can be installed inside the shelf. This is an elegant option as you can also add colour to your kitchen.
Shelf curtains can be replaced from time to time with a good wash. This is an easy maintenance and economical option to allow aeration and discard bad odour. Typically you can choose cotton cloth with a thicker gsm and summer prints to lighten up the kitchen.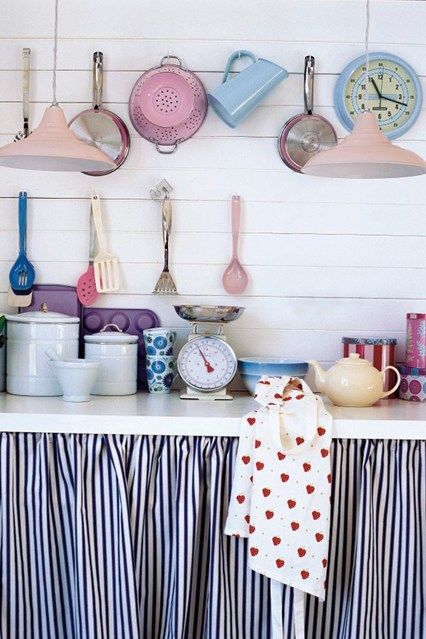 What do you need? - A home apparel store provides extensive options to add curtains. Old drapes stitched creatively can also be another option for curtains.
6. Add ergonomy with Pull-outs
Another version of kitchen drawers are pull-outs. Pull-outs add ergonomic functionality to your kitchen. Pull-outs can be installed at high or low levels and can be built into existing cabinets. They can hold upto 200 kgs of items in different configurations. Since pull-outs are pre-made and are designed for different spots in a kitchen, plan ahead about the articles it would hold. List down the exact kind of articles you intend to stack. Few of them could be - utensils, dry snacks and food items, condiments, gourmet warmers, dustbin, electrical appliances and so on.
Layout of Modular Kitchens
Modular kitchens
come in four main layouts. Based on the layout that meets your needs, kitchen cabinet units can be designed.
U-shaped: Suitable for a reasonably large kitchen, with cabinets on three sides. This is useful to both store as well as work comfortably. One side of it can even work as a serving counter, leading into the dining room.
L-shaped: A compact option for smaller kitchens, with the sink usually in the corner of the L to save space. A popular layout for Indian kitchens, it offers just the right amount of space without compromising on the look. In this case, except for the space under the water sink and kitchen hob, rest of it can be used to install kitchen cabinets.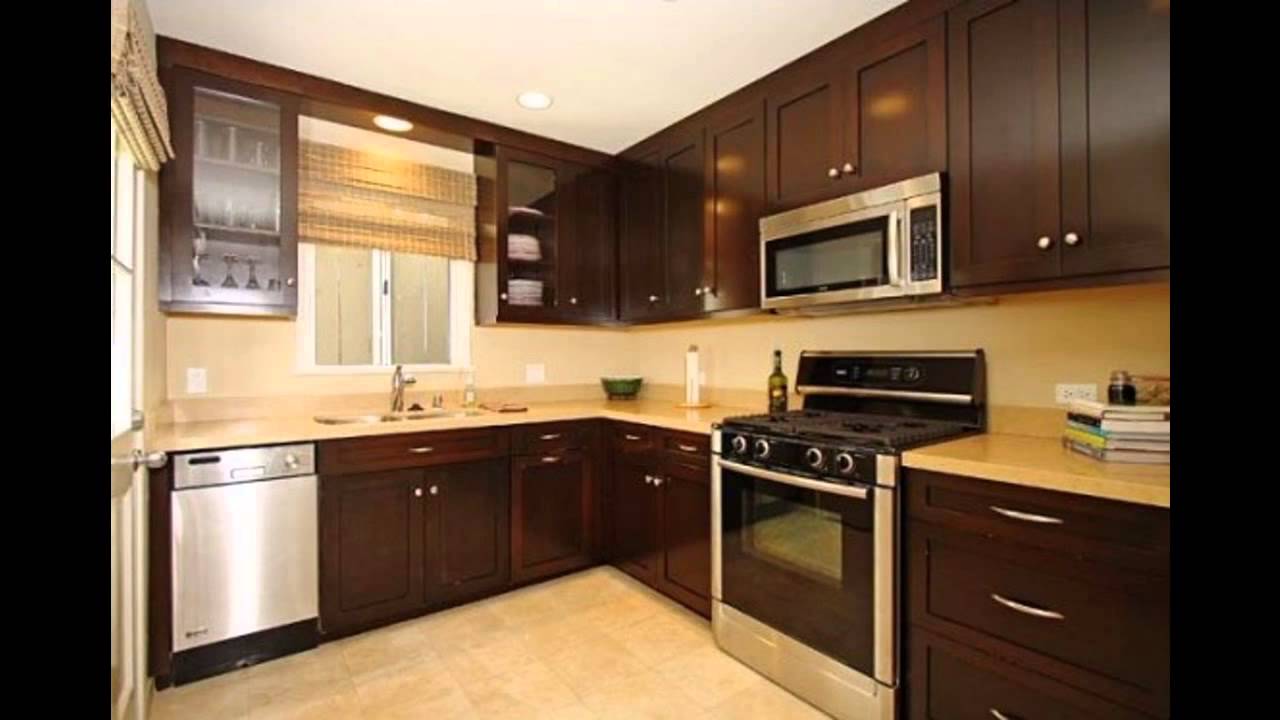 Parallel or straight: Indian kitchens are often narrow and rectangular. In these cases, the best layout would be a parallel or straight kitchen, where the cabinetry is along one or two walls. It allows ease in the working space, without making the kitchen look too cramped. Island: The cabinets and workspace are in the middle of the kitchen. An island layout works best in a large space, with enough room to walk comfortably around it on all four sides. This also allows you to plan for kitchen cabinets like long pull-outs to store food for different cooking needs.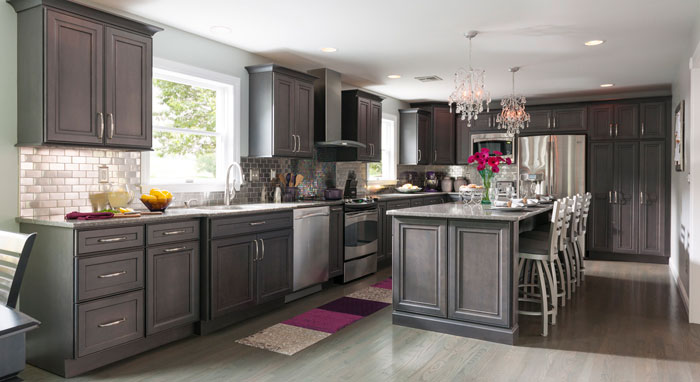 Gray kitchen cabinets with both gray counter-tops and shelves. Kitchen cabinets are installed into walls adding more room in the walkway.
There are three kinds of kitchen cabinets available for modular kitchens:
Custom cabinets: These allow for complete customization of cabinets to suit your specifications. These can be a heavy on the pocket, but the best option if you're looking for a long-lasting design.
Semi-stock or semi-custom cabinets: These offer limited customization, useful if you want some minimal changes. These also come in standard sizes like stock cabinets, but can be customized where required to meet your storage needs. This is an affordable remodelling cabinet option when you choose to reface your kitchen cabinetry.
Stock cabinets: These are readymade kitchen cabinets, available in a variety of sizes and materials. They are affordable and many kitchen cabinet manufacturers offer a variety of options in standard sizes.
Material for Kitchen Cabinets
The material used for kitchen cabinetry should ideally be resistant to water, heat, UV light, scratches and pests. Cabinet doors/shutters can make or break the look of your kitchen - so pick wisely. The structure of cabinets can be divided into two, the body or 'carcass' and the doors/shutters. Here are some of the materials used for both.
The standard floor cabinet height is about 36 inches, which most modular kitchens offer. The cabinets stand on 'legs' that help hold the body a few inches off the ground. This is done to prevent the body from damage due to moisture and wetness caused especially from a mop, which we use on a daily basis in India. It is crucial to pick a strong and durable material for the carcass, as it forms the skeleton of your kitchen, which holds everything together. It should also be able to take bolts and screws being drilled into it, without any cracking or splitting.
For overhead cabinets (ranging from 30 to 42 inches), an inset glass frame can be used, so you can tell what's in it at a glance.
Marine ply: One of the most popular options in India is marine ply, which is durable, waterproof plywood. Its resistance to moisture is considerably higher than other materials and it's relatively easy to laminate and maintain.
Natural wood: Though classic, it needs constant maintenance and can expand/bend due to weather conditions.
Pre-laminated particle board: A cheaper option to natural wood and plywood, however, not as strong as the other two options.
MDF: Though used as a cheaper option (along with a membrane finish), it is not widely recommended as the wood easily breaks when you drill nuts and bolts into it. It is best when you have a finished good.
Shutters or the doors of your kitchen cabinets form the main aspect of the kitchen appearance. They've got to be water and UV light resistant, heat resistant, and preferably have a finish that prevents them from obtaining scratches easily. If you have a cabinet under the sink, it is especially important to a material that's waterproof, so that leaks do not eat into the wood. Keep in mind also the closing/locking mechanisms of shutters, soft enough so that they don't accidentally hurt your fingers, but sturdy enough to stay shut during a storm.
There are a variety of products that can be used for the finish:
Acrylic: Waterproof, repairable and resistant to light, offering the best gloss finish.
Laminates: Made from paper and plastic resins,
laminates
lend a sleek, modern look. They're less expensive than acrylic, making them a popular option along with a Marine Ply base. They're also offered in a wide variety of patterns and colours, including a wood 'print'.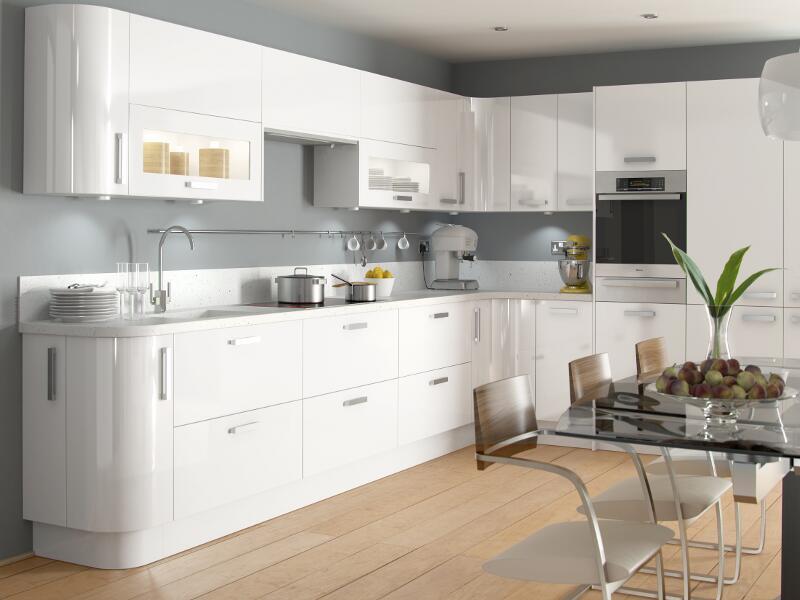 Combining a wood and hi-gloss look. Good option for white kitchen cabinet doors.
Veneers: If you love the look of wood, you can opt for
veneers
, which are thin slices of wood glued on to the body. Also a popular option with the Indian audience. However, make sure to pick a good quality of veneer - some of them can peel off from the base over time.
Oils and varnishes: Varnish is a tough form of coating that forms a seal on the wood and is resistant to UV-light. Polyurethanes are liquid plastic materials, used to give surfaces a laminated look. Water-based polys can be used as a more environment-friendly (but less durable) option than oil-based ones. However, oil-based ones lend an amber/yellow hue to the surface. Lacquer provides a rich gloss finish, but can get scratched and discoloured easily.
Overall, it's best to pick a layout that makes use of optimum space, a material that's tough and easy to maintain, and a style that gives you the best bang for your buck.
Kitchen Cabinet Replacement Checklist
Use this checklist while remodelling or refacing kitchen cabinets for a new look and utility.
Have any of the cabinets been exposed to termite or water or been warped?

Has the wood used for the frames been bloated due to weight?

Do you have cabinets above your kitchen hob or microwave?

Do you have etched stain or paint on your kitchen cabinet doors?

New cookware and utensils you want to add to the kitchen or old ones that you want to dispose?

Do you need to replace any of the laminates on the cabinet doors?

Appliance replacement to add more storage

Drawers or Pull-outs to be added

Need for baskets in the kitchen set-up

Knobs or handles to be replaced.

No. of kitchen cabinet doors that are not required, in case of an open shelf.

Lighting replacement inside the shelves.

Additional glass doors required.

Repainting any of the cabinet doors.