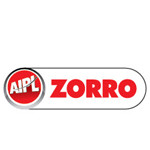 Aipl Zorro

New Delhi, India
Aipl Marketing Pvt Limited is a pioneer manufacturing and marketing company having pan India network of sales & marketing. Part of Ajit Industries group more than 20 years of vast experience servicing to automotive, hardware and construction industry and well known and respected for best quality products from across the world. The new product range of Aipl for construction and waterproofing with brand name Aipl Zorro has been very well accepted by the construction & waterproofing industry. Aipl Zorro product range is manufactured with world class technology at most modern manufacturing facilities and with stringent quality control so that the customer get the best product for their requirement. Aipl Zorro has two product range waterproofing chemicals and instant adhesive under names of Aipl Zorro Fix and Aipl Zorro Quik. Aipl Zorro Fix waterproofing products are best in quality and have already been appraised by stalwarts in construction and waterproofing industry. With pan India distribution network of Aipl Marketing the products are now available within reach of consumers. Aipl Zorro Quik instant adhesive is a superglue for multipurpose instant uses in household and industrial application. Aipl Zorro will always strive to enhance its quality product range, and keep adding new product range for the benefit of the consumer and its distributor & dealers.
Products By Aipl Zorro
Aipl Zorro Latex Zorrocrete
Latex Zorro crete Waterproofing Repair Product is Styrene Butadiene Rubber based bonding agent. APPLICATION AREAS For waterproofing of roof slabs, sunken slabs, basements, water tanks, balconies, sunshades. Its is used as a bonding agent between old and new concrete, for cementitious substrates. It is also effective to make repair mortars and concrete in building rehab work. Treatment for leaching and salt petre action. It is multipurpose mortar admixture for injection grouts. FEATURES White turbid liquid can be easily applied by brush.. Strengthening cold joints between old and new concrete and making them non-permeable.. Multi-purpose use as a bonding agent, modifier for cement-sand and concrete mixes in building repairs. Gives weather resistant mortar with improved durability impermeability to chlorides and other harmful agents. Excellent as a cement modifier. It prevents cracking by improving flexural strength. Allows breathing thus preventing peeling off.. Reduces shrinkage and water permeability in concrete and mortar. Good as a bonding agent in repairs and renovations.. Reduces chloride/salt penetration in marine environment. Compatible with all common hydraulic cements.
Aipl Zorro Zorro Crack-Fix Crack Filler
Ready to use paste fill cracks for internal and external surfaces in plaster. Zorro crack-Fix is high quality weather durable acrylic based ready to use flexible putty which is easy to use for filling cracks in plastered surfaces because it has excellent bonding, easy of application, durability, water resistance and aesthetic appearance. AREA OF APPLICATION Repairing of internal and external cracks in plastered surfaces up to 5 mm X 5 mm size. Suitable for both vertical and horizontal applications wherever hairline cracks are observed. It can be used for leveling the undulations of the Un-plastered or plastered ceilings and walls before painting. FEATURES & BENEFITS Easy to apply by putty knife similar to conventional putties. Accommodates slight movements in the cracks. No shrinkage. For both internal and external surfaces. Over-coat able by any type of water based paints after 24 hours. For cracks in cement plaster up to 5 mm wide. UV and water resistant. Non staining. It can be used as putty on plastered surface in patch works. It can be tinted using water based strainers. Excellent adhesion. Can be applied on damp surfaces but not on cracks with running water.
Aipl Zorro Zorroproof Waterproofing Masters - Liquid Water Proofing
Zorro proof Liquid Water Proofing is a liquid integral water proofing compound ideal for use with both Concrete & Plaster. To minimize permeability and increase the waterproofing properties of concrete and cement sand mortars for critical application like roof slabs and screeds, beams, columns, basements, external plastering, bathrooms floors, tanks, sumps, drains, culverts, tunnels etc. FEATURES Being a liquid it is easily dispersible and compatible with concrete/mortar mixes. Increases workability of the concrete mix without increased water content Compatible with all varieties of Portland cement including slag cement. To be added to gauging water before adding to the mix required at a very small dosage hence convenient to handle and greater economy Increases cohesive property of concrete/mortars thus eliminating segregation and bleeding Minimizes porosity and capillary action. Rebound loss is low. It reduces the permeability of water into concrete. Reduces shrinkage crack development in concrete and plasters. No added chloride.
Collections By Aipl Zorro
409, 4th floor, D-Mall, Netaji Subhash Place, Opp. Wazirpur Bus Depot